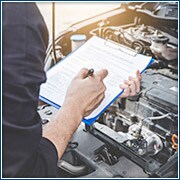 COMPLIMENTARY VEHICLE INSPECTION

Come in over the month of March and keep your vehicle healthy and safe on our winter roads. Book now to have us perform a no-charge, multi-point check of your vehicle. This includes belts, hoses, fluids and tires as well as a visual inspection to make sure the front and rear brakes are safe. When we're done, we will even wash your vehicle!
Call our service department today at 1-888-250-8886 to book your inspection.