Autism Awareness Colouring Contest - Precision Hyundai Calgary

2019 AUTISM AWARENESS COLOURING CONTEST
SPONSORED BY PRECISION HYUNDAI, MORTGAGE TREE, HENDRIX LAW, ORANGE THEORY FITNESS CALGARY & TOWER CLEANERS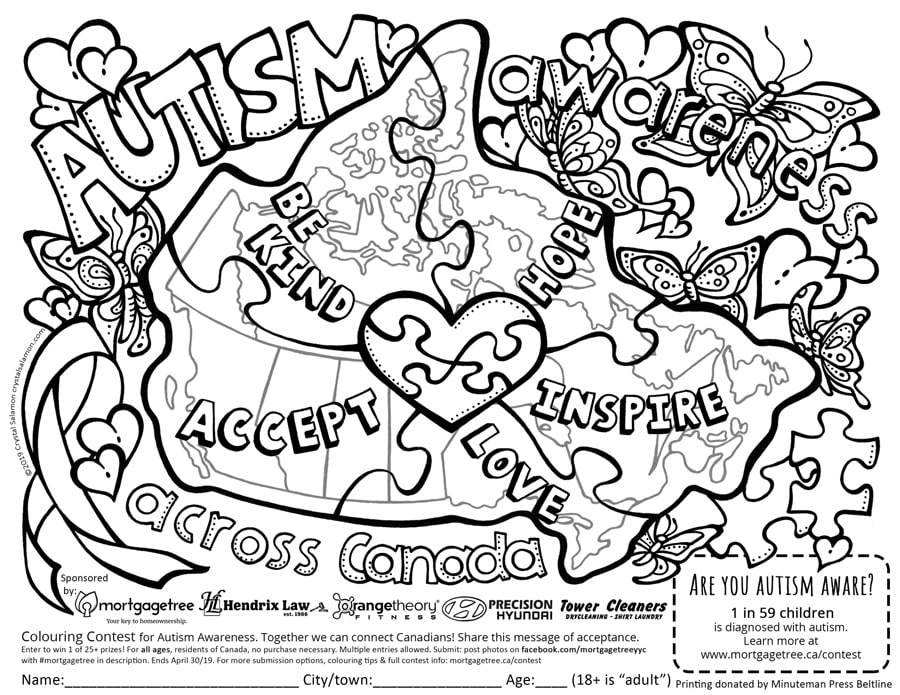 A fun contest for a fabulous cause!
We are back! ARE YOU SITTING DOWN?!! We are excited to announce a new colouring contest with AWESOME prizes, sponsored by five incredible Calgary companies!
WORLD AUTISM AWARENESS MONTH IS APRIL 2019
Participate in our colouring contest to raise awareness and funds
Join in this Fun Contest to Help Raise Awareness and Funds for Autism Calgary! Win Amazing Prizes!
Entries are due by 11:59 p.m. (MST) April 30, 2019
Winners will be announced May 12, 2019 on Precision Hyundai's Facebook Page

Autism is the most commonly diagnosed Neurological disorder in Canada!
Autism has hit close to home at Precision Hyundai and our Partners, and as such, we have a very specific and heartfelt interest in helping support, and give back to this community. Precision Hyundai donates a percentage of our earnings to assist families with Autistic children through Autism Calgary . Autism Calgary is a voice for families affected by autism, while offering education and support within the community. They are advocates for the best quality of life possible for those with autism and promote the continued research and advancements in treatment options available. We are proud to be committed to this worthy cause.
Early childhood lesson plan
Danielle deNance is a teacher with the Calgary Board of Education in Early Childhood Education. She has created a wonderful lesson plan on Autism using the Mortgage Tree colouring page as a tool. Danielle was inspired by our contest and message about Autism for you to learn, share and spread the word about Autism Awareness.
1st Place: iPad
2nd Place: 2 Calgary Flames Hockey Tickets Centre Ice
3rd Place: Google Home
4th Place: Amazon Alexa
5th Place: One Month Unlimited Membership Orange Theory Fitness Calgary
20 Runner-up Prizes: Gift Cards
With 1 in 59 children now being diagnosed with Autism Spectrum Disorder (ASD), it's likely you now someone affected by thIs lifelong disorder.
Take a photo of your coloured page
Submit your photo through one (or both!) of these:
Like our Facebook Page
Post your photo on our wall with #precisionhyundai and #artwithcrystal in the description
Follow us!
Post your photo on your account with the hashtag #precisionhyundai and #artwithcrystal in the description.
Not on social media?
No problem! Just email us your photo to info@precisionhyundai.com

Contest Ends: 11:59 PM (MST) on April 30th, 2019.
Winners will be announced on May 12th, 2019.
Who can enter?
Canadian residents of all ages and skill levels. No purchase necessary. Multiple entries allowed, as long as each entry is a different, original coloured page!
SPONSORED BY:
PRECISION HYUNDAI
MORTGAGE TREE
HENDRIX LAW
ORANGE THEORY FITNESS NORTH
TOWER CLEANERS
Proceeds will be donated to Autism Calgary to assist families who have children with Autism Spectrum Disorder.
How can you donate?
Please help us by forwarding our Facebook post, this page to anyone you know or who may be interested. You can also donate to Autism Calgary
click here to donate
or visit
www.autismcanada.org