Model Lineup
L/100 KM: 6.6 Hwy | 8.8 City

L/100 KM: 8.1 Hwy | 9.2 City

L/100 KM: 1.9 Hwy | 1.6 City

L/100 KM: 4.4 Hwy | 4.2 City

L/100 KM: 6.6 Hwy | 8.8 City

L/100 KM: 7.8 Hwy | 8.3 City

L/100 KM: 7.4 Hwy | 9.8 City

L/100 KM: 8.0 Hwy | 8.6 City

L/100 KM: 9.6 Hwy | 11.1 City

L/100 KM: 9.1 Hwy | 9.9 City
Welcome to Precision Hyundai
Well designed vehicles with all the features of a
luxury brand for 60% of the cost


Driven by Family Values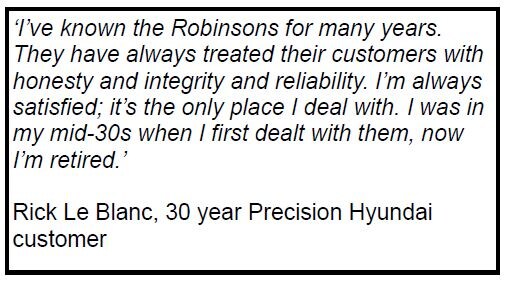 1984 - Precision Hyundai was the first Hyundai
dealership established in Western Canada and the fourth nationally.



TODAY - Unlike many dealerships, we've been family owned and operated since the beginning. Some of our long-term employees and customers have been with us for over 30 years.


> 140 COMBINED YEARS OF HYUNDAI BRAND KNOWLEDGE
- CLICK HERE to learn more about the depth of knowledge Precision
Hyundai staff bring to our customers.


PREFER TO WORK WITH A WOMAN? We offer the option of
working with another woman throughout the entire process.
CLICK HERE to learn more.

Make the Precision Decision - experience a family owned
and operated dealership that consistently adheres to family values.
LEARN MORE

Visit us at our state of the art showroom at Precision Hyundai on Deerfoot Trail
& Glenmore Trail in the Calgary Auto Mall. www.calgaryautomall.com.